Pipe Connection Refacer
The R&R Manufacturing Pipe Connection Refacer, reconditions single and double shoulder connections to a working condition. The unit has a durable industrial design, minimized maintenance and is manufactured with the highest quality for dependability.
Connection Refacer Standard Features
Recondition both single and double shoulder connection faces with carbide machine insert (no sandpaper).
Zero gravity lifting arm.
Integrated hydraulic power supply.
Interchangeable cutting heads for multiple connection types.
Depth of cut stop.
Adjustable rotational speed.
HMI touch screen.
Programmable connection speed.
Quick make and break.
Cutting tool rotates, pipe or tool is stationary.
Portable, facility or field.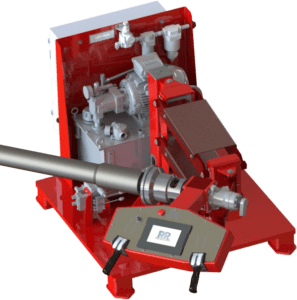 Service Requirements
Electrical:
230/480v, 3ph, 30A, 50/60 Hz, Others by request
Pneumatic:
100 psi @ 25 cfm
Customer responsible for all service terminations.
Get A Quote