Tubular Conveyor Systems and Threading Tables
R&R Manufacturing's standard Loading Conveyor System is a high speed automated conveyor that lifts, conveys, and supports tubular products during lathe operations. This tubular conveyor is also equipped with the same hydraulic motor as our tubular cleaning units. The support roller features a hydraulic-dampened, high impact, air suspension system that significantly reduces vibrations to the lathe.
The Loading Conveyor System also features an automatic height memory system. Once the machine is set for a particular tubular size, the conveyor system will automatically return to the same height until the height memory system is reset to another tubular size.
Custom Designed Automatic Conveyor Systems
R&R Manufacturing is known for providing custom industrial automation solutions for a wide range of companies to help improve operations, productivity, and safety. Our indexing conveyors automate the process of moving products through the production process in a series of steps and transfer conveyors automatically make a smooth transfer of materials from conveyor to conveyor.
While our standard Loading Conveyor System is designed to move heavy pipe and tubular products, we also design, manufacture, test and install automatic conveyor systems for all types of products and materials, any size.
Standard Loading Conveyor System Features
Height adjustable V-Roller to convey pipe into lathe
Pneumatic run roller assembly system to support range 2 pipe turning operations
Automatic height memory system
15 HP hydraulic system to efficiently perform all pipe handling operations
Operator and maintenance friendly electric control pedestal
Clamp for securing small diameter tubulars during high speed cutting
Optional Features
Fully automatic loading, setup, and unloading
Remote monitoring
Stand-alone roller for easier pipe loading
Range 3 Pneumatic run roller assembly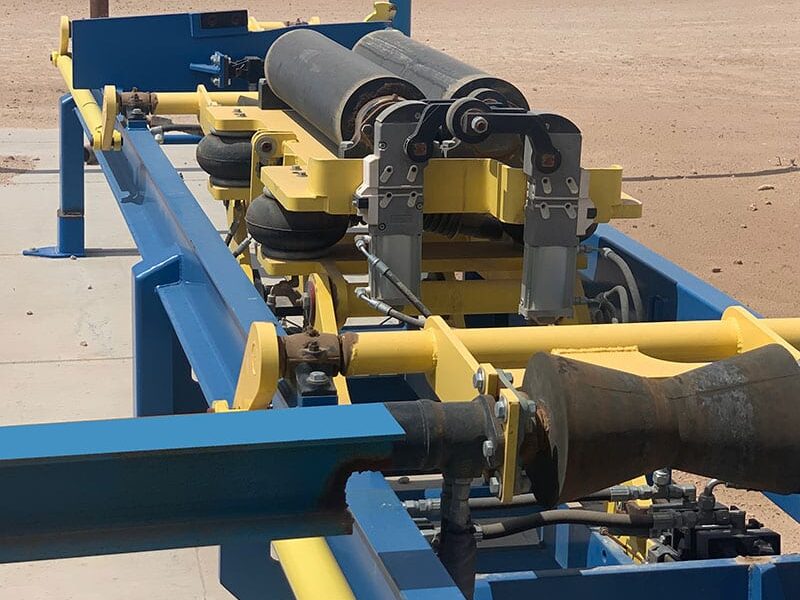 Building and Service Requirements
Electrical:
230/480v, 3ph, 50/60 Hz, Others by request
Pneumatic:
110 psi @ 45 cfm (Non-ID Rattling)
Work area as per layout drawing 30800.117
Customer responsible for all service terminations & building modifications
Signed installation agreement, if applicable
Capacity:
Minimum size: 2-3/8″ Tubing
Maximum size: 6-5/8″ Drill Pipe / 8″ Drill Collar
Get A Quote