Pup Joint Cleaning Machine
Standard Features
The pipe rotates in place at adjustable RPM while cleaning heads travel linearly along the pipe at 0-100 feet per minute.
Eliminating pipe slippage with wet/muddy pipe therefore increasing efficiency and production.
Cleans pipe from 3' OAL to 15' OAL and OD from 2-3/8" to 10-3/4" OD.
Wire brush assemblies for tubular outside diameter with tubular stabilizing cones.
Pneumatic brush assembly floating system to handle dimensional variations.
Inside diameter cleaning via a rigid pipe to accommodate rattling motor or high-pressure water attachments.
40 HP electric-powered hydraulic system to efficiently perform all pipe handling operations.
Left or Right tubular loading setup.
Operator and maintenance-friendly electric control pedestal positioned up to 25' away for maximum safety.
Optional Features
Outside diameter extreme scale and rust removal system.
Water blasting accessory package to accept up to 40,000 psi water blasting system. Systems with 20,000psi water attachments do not require any pre or post-unit cleaning. Tubular goods are inspection ready upon unloading.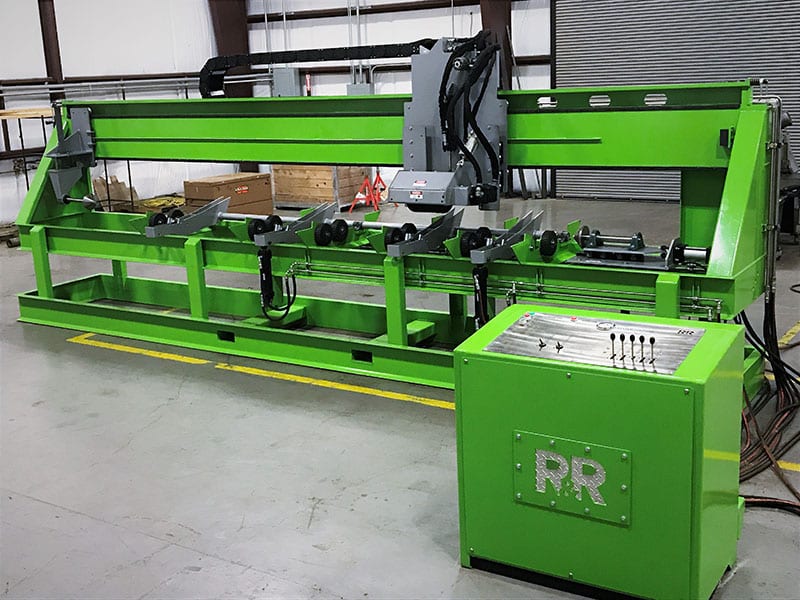 Building and Service Requirements
Electrical:
230/480v, 3ph, 50/60 Hz, Others by request
Pneumatic:
110 psi @ 175 cfm (ID Rattling)
110 psi @ 45 cfm (Non-ID Rattling)
Work area as per layout drawing 10500.117
Customer responsible for all service terminations & building modifications
Signed installation agreement, if applicable
Get A Quote