55 Gallon Drum Dust Collector
Cleaning pipe is a messy business. Our Dust Collector can not only help collect debris created during the cleaning process, but makes disposing of that debris easier. R&R Manufacturing's Dust Collector has been designed to provide maximum dust extraction and features an easy to move wheeled collection drum.  Instead of having to dig out the collected debris from a drawer bin, the wheeled collection drum can simply be pushed to your disposal area, making the process of cleaning pipe quicker, cleaner and safer. Perhaps the best feature of our debris collection unit is that it is compatible with any existing cleaning unit regardless of the manufacturer.
Standard Features
Industrial, severe duty 3 HP, 3600rpm, TEFC with rain shield severe duty fan motor.
Heavy-duty stand.
Fully welded, heavy wall cyclone separator with internal baffles for efficient debris separation.
Easy to remove standard 55-gallon drum rolling caster cart.
15" backward inclined non-sparking impeller.
Optional Features
HEPA filtration with non-stick inner membrane for easy cleaning.
35 gallon drum and reduced height.
Galvanized frame and cyclone body.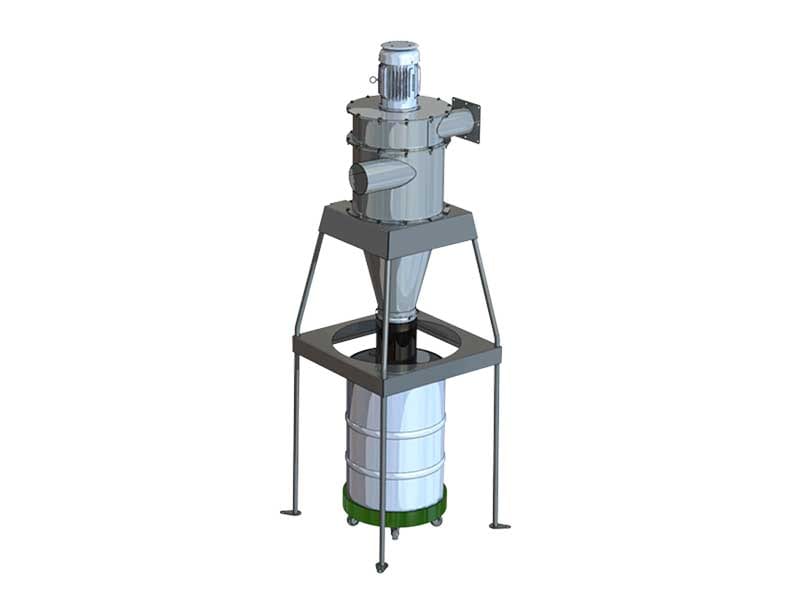 Building and Service Requirements
Electrical:
230/480v, 3ph, 50/60 Hz, Others by request.
Get A Quote